Covid-19 [update]
We are open!
(subject to regulations and guidelines)
We are following the latest government guidelines and can operate with a reduced capacity. We are now able to operate our 43 and 50 seater boats at a little under 50% passenger capacity which allows us to follow the government's latest social distancing recommendations. This will be from April 2021 and we have decided that for the remainder of this season regardless of any relaxation of the rules we will still operate at this greatly reduced capacity.
The latest advice must be followed so you will need to :
Adhere to the latest rules on social distancing.
Book in advance by telephone and give contact details, which will be kept securely for 21 days.
Follow staff instructions at all times.
Be able to embark/disembark without the assistance of our staff.
Use your own covid-19 approved hand sanitiser just prior boarding the boats.
Follow the current legislation (unless exempt) and wear your own face covering at all times whilst on-board.
Respect that during an emergency situation social distancing may not be possible at all times.
With a limited capacity you will need to book well in advance. Extra trips may be available when the tides allow. The cost is £20 per adult & £10 per child (under 2's go free). Private charters are also available for up to 24 people which is a great option to see the seals with your family group(s).
Please note that with our very limited capacity if you do not arrive in time to pay for your tickets, or you do not give enough notice to resell some or all of your reserved seats, you will be billed for any balances due.
We are an outdoor operation with bench style seating side by side, and with much reduced passenger capacity we will be able to maintain the governments distancing recommendation and easily keep to the 1 meter + rules.
The National trust carpark is in operation, but with limited toilet facilities, there are no landings on Blakeney Point. If you have any issues during your visit, please let us know and we will do our very best to address them.
Why not try our Covid19 & Eco-friendly e-ticket booking service?
For medium & larger groups, Book by phone, Pay by phone, Tickets by e-mail.
Should there another lockdown because of covid19 we will refund any cancelled bookings in full
Our business has been Covid approved by the "We're Good to go" campaign in partnership with the tourist organisations of Great Britain & Northern Ireland.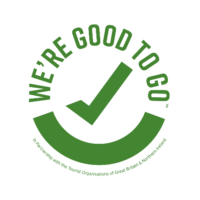 For the very latest update and advice from the government click link below.