Places to stay and things to do
Eating, drinking and more in the area
Gilly crabbing, Blakeney Quay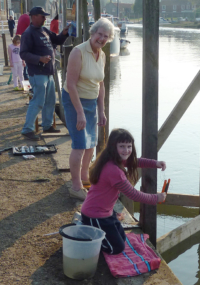 ; What you will need
A crab line (which you can buy locally) a packet of bacon, a large bucket and a net. Find a place anywhere along Blakeney Quay, then you just have to sit back and wait for the crabs to come. Please do not use hooks, you can tie the bacon on and remember that the best time to fish is on the tide (after a seal trip!)
Take precautions for non swimming toddlers, never leave them unattended, armbands or buoyancy aids are advisable too. The tide comes in very fast and gets deep quickly! Release the crabs carefully at the end of your fishing for other people to enjoy catching them. Hand washing facilities are available in the toilets opposite the national trust car park.
How many Seals pups born 2001?
How many Seals pups 2020/2021?
Average Seal colony on Blakeney Point!